CUSTOM AUTOMATION USING SOLIDWORKS   
Artech Engineering Inc (AEI) has developed this design concept working directly with the end user. All activities up until the final installation were supported by AEI.  The Design, Engineering Analysis, Bill of Material,  and Manufacturing Details were generated using SOLDIWORKS. The design allows for rotation and moving an enclosure from one floor of a building to the next floor below.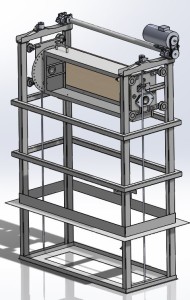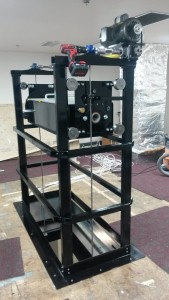 SOLIDWORKS 2016
Artech Engineering Inc has SOLIDWORKS premium for design, Engineering Analysis (FEA), and documentation capabilities.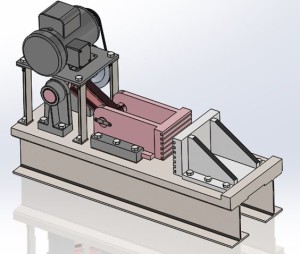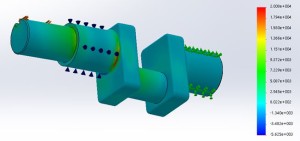 Machine Upgrade
After our field investigation, the problem component was replaced with a drop in upgrade. The new design was validated using FEA.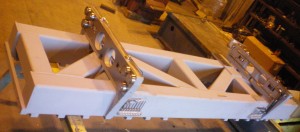 Kinematics and Finite Element Analysis
Artech Engineering Inc has conducted Engineering studies that integrates kinematic data with Finite Element Analysis so that complete load histories are considered. The following press drive component is part of a special linkage that applies full tonnage across three points of support. The large bore includes non-linear interface elements (gaps) for a more accurate solution.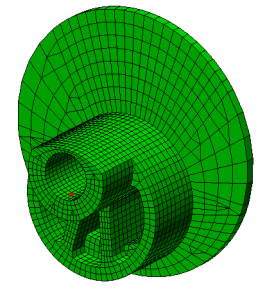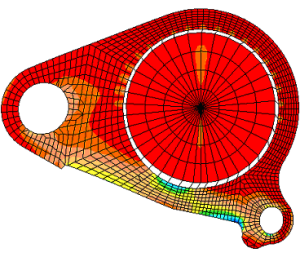 Pressure Vessel Engineering Analysis
Capabilities include FEA integrated with the ASME Sec VIII Div 2 code for cyclic count determination. Special applications in the past included the DDAM procedure for the Navy.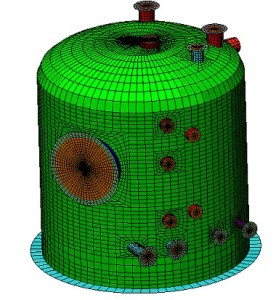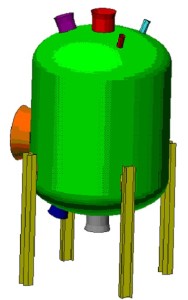 Machine Design / Heavy Equipment / Automation
Artech Engineering Inc provides all types of product and machinery design. This sample system was a "clean sheet" development to create a series of conveyors and walking beams that separates bundles of tubing for a paint line.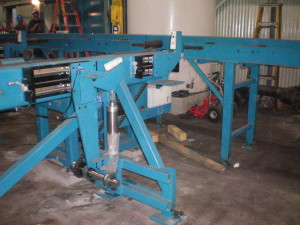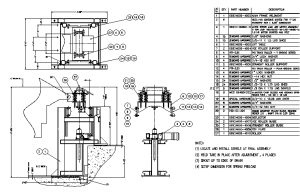 Press Engineering Capability
Artech Engineering Inc has over 30 years of press design experience. Utilizing Engineering Analysis methods with this experience, we determine root cause of failures and develop design upgrades.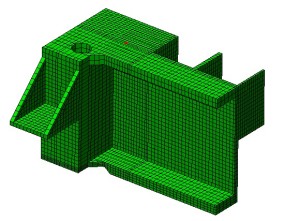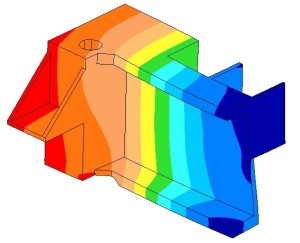 Hydraulic Solution for Forming Dies
Retro fit system provides better control of binder pressure during metal forming. Based on hydraulics, this system provides a controllable forming force throughout the press stroke and eliminates upward loading post bottom.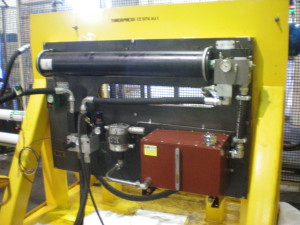 Failure Analysis
Utilizing classical theoretical Engineering Analysis methods and the computer simulation method Finite Element Analysis, the root cause of the failure is determined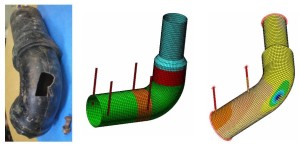 Power Transmission Studies
Artech Engineering Inc provides studies and analysis reviews of drive trains and drive train components. Reviews include torque and force determination for purposes of size determination.